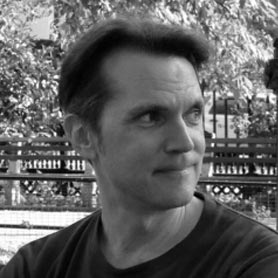 After 20 years of living in Manhattan, Todd has still never crossed the Brooklyn Bridge or hailed a gypsy cab (okay, once), but he has managed to whip up creative confections for a myriad of clients and agencies throughout the city. All while wearing many hats –creative director, art director, designer, writer, referee, diplomat, psychiatrist– and never once losing his sense of humor (okay, once). When he's not making the world safe from groupon ads, he's watching far too many movies, eating far too few vegetables and recalling just enough conversational Japanese to ask the time of day or comment on how tasty the bean curd buns are this morning.
---
Resume
FREELANCE  2001- present
UBS, New York
In-House Creative Agency
Organic, New York
Meiomi Wines, Frontline
FCB, New York
Stiolto
DNA, Seattle
Fred Hutchinson Cancer Research Center
Evolvr, Philadelphia
Shire
Jack Morton, New York
Verizon
Bullish, New York
GNC
Spark 44, New York
Jaguar
BBDO/Atmosphere Proximity, New York
Citibank, DePuy
Wunderman, New York
Best Buy, Coca-Cola, Microsoft, Citibank, Dell, Land Rover
Uproar!, New York
Hasbro
DraftFCB
Strattera
MRM, New York
Exxon Mobil
Digitas, New York
American Express, Gilead
Ogilvy One, New York
American Express, SAP, DuPont, Yahoo, Pitney Bowes, DHL, Investools, Slim Fast
Chapman, New York
Schieffelin & Somerset Classic Single Malt Scotches
~~~~~
STAFF
Pickholz, Tweedy + Company, New York
May 1997-January 2001
ETRADE, Cablevision, AAA, 1-800 Animals, Vantas
BBDO, New York
February 1994-September 1995
Pepsi, Pepsi XL, Doritos, Aquafina, Baked Tostitos, 7-Up
Ogilvy & Mather, New York
October 1992-February 1994
United Way, Hershey's, Log Cabin Syrup, City Volunteer Corps, Golden Crisp Cereal
~~~~~
AWARDS
Cannes Finalist, Echo Awards Bronze, Financial Communications Society Gold, New York Addys Silver, London International Art Directors Award, One Show
~~~~~
Special thanks to the fine folks at JMX2 for their unparalleled developmental abilities. John and, um, Jon turned around the coding and launching of this site in record time and didn't once yell at me for asking the impossible. Check out their other work and ping them next time you have need for a crack team of digital developers.